TINY*TOTS
BABY MOCCASINS
The moccasins pictured below are available now.
Adult sizes have the same guidelines but do require a deposit. All shipping and handling costs are included in the price of these items.
*White Doe Front strap bootie with velcro & fringe-Size Zero- $40.00
*Brown Leather Fringe Lace Bootie-Double sole with liner-Size 3- $50.00
*White Doe Fringe Bootie w/ beaded toe-plug-Size 3- $60.00
Infants and Toddlers sizes available - Size 0-9
I do not stock these items so please allow 4-6 weeks for delivery after placing your order. See contact information on my home page. Thanks for browsing mysite.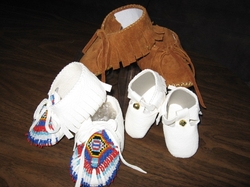 Infant and Toddler sizes available- Size 0 through 9 *COMING SOON*Ladies Sizes 4-11 and Lace-up Moccasin boots for adults. All hand cut and sewn by me.
Moccasins are made for baby feet. Baby feet consist mainly of flesh and cartilage. At this young age, the bones of the feet are more gristle-like cartilage than bone. Your baby has a lot of growing to do, before he or she has a hardness to his foot. Therefore, baby feet are very moldable. Your baby's feet easily molds to the shoes you put on their feet. Baby moccasins make a lot of sense. They are soft, light-weight and in no way, restrict the foot. That is critical for your baby's foot development.
These are custom made, so send me an E*mail and specify your baby's size and i will make your little bundle of joy an awesome pair of Genuine and authentic Indian moccasins made by me!


*COMING SOON!!* Beaded newborn white doe moccasins.