PHOTOS
Photo Gallery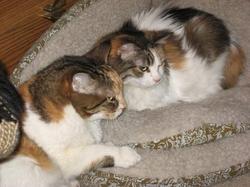 This is Nutmeg, we call her Tisser, she is my Domestic Callico Angora, she brings such joy to my life.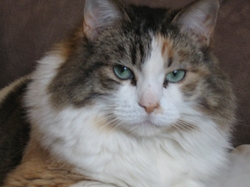 Tisser loves to go to the salon and get her lion cut hairstyle. Everyone there at "Best Friends Salon" just loves her because she stands so nice for them.
This is my 16 year old baby Nalla the day before she went to Rainbow Bridge.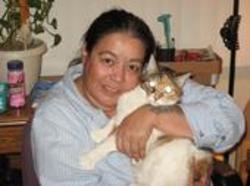 Saying goodbye to you was the hardest thing i ever had to do. I know we will see each other again and i hope you are having fun at Rainbow Bridge...missing you Nalla.
October 12th, 2007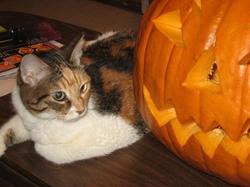 Me and Nalla carved a pumpkin the day before she had to go.
Anybody home?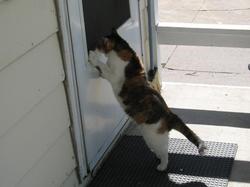 Nalla never liked to go outside, but i took her out to get some sunshine once in awhile, but as soon as someone walked by she ran like super fast up the stairs and wanted inside. She is a domestic Callico Shorthair. She and her sister Nutmeg have alot of similarities yet they are so different. I love them with all my heart.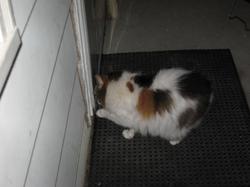 This is Nutmeg trying her hardest to open the storm door, she is a quiet kitty and likes to nap, she don't like to be bothered much or hugged and kissed, when i kiss her she starts to bathe right away and wash up. When i got these 2 cats in 2000 i promised to keep them together forever, they are sisters and i have done the best i can. They are my family now and their companionship has been a blessing from God and they have surely taught me about trust and unconditional love.
This is our little missy slominski!! She's such a sweety...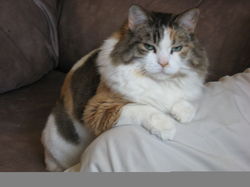 Nutmeg has really been a daddy's girl and she never misses an opportunity to sit close to Michael and get some lovin. She really has grown to love and trust us over the years. We love her so much.
This is our Jack Dempsey, he is quite the fish, he was a rescue and we nearly lost him but with alot of TLC , water changes and antibiotics we brought him back and he is going to be 8 years old. I never though in a million years i would ever cry over a fish! We love him!